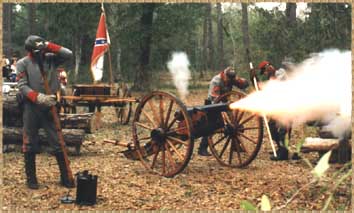 When one travels today, especially to historical sites, one constantly encounters modern day people dressed in costumes of the period to suit the site being visited. The earliest encounters of this sort were limited and usually in parks where either the park rangers or select volunteers were allowed to so dress. In recent times dressing the part is not the only thing being done as trying to "act" the roll of a person of a particular period or event is now the sort of thing many are doing. Thus we have re-enactments of battles, historical situations, treaty signings, etc., ad infinitum. Why?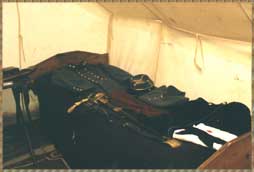 Those who teach certainly know the value of the most simplistic form of re-enactment as they try to gyrate through some series of motions that help students perceive visually the point they are making. But why do ordinary citizens make and /or purchase costumes and accoutrements necessary to act out a role in some scene from the past?
What about those who must also become proficient in some archaic form of warfare such as in our own backyard at the annual Battle of Natural Bridge Re-enactment? Or perhaps as taxing, learn a skill long ago bypassed by modern technology?
Then why are there teachers who can teach these things? Talking to several of these re-enactors at different sites has given a small insight into this. Many of them are their own teachers in that they have spent a great many hours in both literary and physical research. One man and wife team confessed an early dislike for their high school history course but since deciding to become period re-enactors they have done enough research to now "teach" their chosen period in great detail.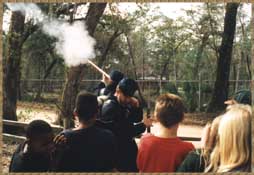 Talking to several who re-enact as a part of their employment it was found that each thought it to be an interesting part of their job, a part on which they had spent the greatest amount of their "outside-the-job" time. Many years ago, while touring civil war sites, Park Rangers at the Lookout Mountain site were observed literally teaching spectators the history of the area as the spectators moved from group to group of the "Living History" re-enactors stationed around the site. They seemed to be reluctant to get "out-of-character" long enough to even discuss why they were doing so much more than their job called for.
One thing that seems consistent with all of these re-enactors is no matter how they got into it, they cannot imagine any reason to ever quit. As one Tallahassee re-enactor, Dale Wetmore (Battle of Natural Bridge and Olustee Re-enactments plus several others) put it; "I will continue to do so (re-enact) as long as I am physically able to do it." His reasons were not only the same as many others but also included observations worthy of note: "Where else can you find several thousand people camped out with minimum accommodations who will sit and talk on such a highly educated plane... and have no need for external rules, laws or people to police them... It is not only an opportunity to help preserve our heritage... It is just plain fun ... Especially to be involved with so many in so much excitement and not be bothered by bar-room type revelry or roughness... and no criminal acts, ever!"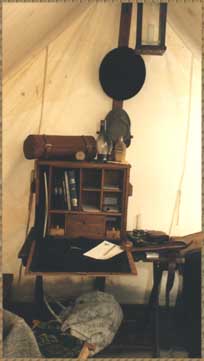 Battles are certainly exciting, especially when one knows no one is to be injured or killed in them. But what about the "Living History" re-enactor who must learn an archaic skill and be able to display that to the public. Did you watch the Flint Knapper forming arrow heads from raw flint rock at the St. Marks Museum on February 12th? He did so with such ease and skill it was difficult to imagine he was not displaying a skill passed from father to son as a life or death need but rather a recent acquired through much research and manual labor. Or the wood-worker at the San Luis Mission site in Tallahassee using tools of 3 or 4 centuries ago to produce perfectly usable products.
As to the cost of such re-enacting, most seem not to have been concerned about it as their burning interest in the endeavor led them into it with minimum accoutrements. As they get more involved and go to more re-enactments, the volume of material needs increases. It seems an individual involved in just the Civil War battles needs some 1500 to 1800 dollars worth of uniform, rifle-musket, powder, and accoutrements for the rifle, the uniform, and the cap. Of course many go prepared to "galvanize" or re-enact on either side of the conflict as they are sticklers for historical accuracy in portraying those battle scenes with the proper ratio of combatants. Just imagine the additional cost to have two complete uniforms, etc!
Eric Harvester who was again a re-enactor at the Battle of Natural Bridge on Mar. 5, 1995, says he honors his ancestors who fought (some 15 family members with members on each side!) in that great conflict by not only learning all he can about it but also by "living" some of it. He certainly honored one of his favorites this time as he was playing the role of the surgeon. That favorite ancestor was a military surgeon during the Civil War.
A gentleman from Chattahoochee said he was "Fresh Fish" today. By that he means it is his first try in a re-enactment battle. Like all who express interest enough to become involved with re-enactment groups such as the Leon Rifles or any other group this gentleman had gone on the field this day with all material he needed "loaned" to him by his comrades! Members of these groups are always ready to assist new members such as here when he is being allowed to try the re-enacting before he begins to put up the finances required for his own regalia.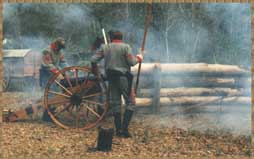 Skip Fletcher, also from the Tampa area has been to many re-enactments in the 6 years he has been so involved. He sometimes averages two junkets a month (22 such junkets last year)! Others echo this average adding that it is a good clean educational outing for their families. Harvester's son was home on leave from Military Service and joined his father in the Natural Bridge Re-enactment as a "Fresh Fish". It was noted there were a good many tents set up for families with younger kids.
An old vet of a war a long time ago wondered if former combat veterans would find this enjoyable, educational, meaningful, or any of those things. Wonder no more as the very men talking were vets. One Vietnam vet, also named Eric, spoke up to say at first he thought it a bad idea. But then, with the usual assistance by other comrades, he joined in and found it to be just as others had told him. It is now good clean family fun for him also. The mock combat is just like "movie making!" There are no bodies, or body parts to clean up afterwards, yet that adrenaline high or thrill of battle is there.
The comradery and closeness within these groups was aptly illustrated during the nights prior to this years Battle of Natural Bridge Re-enactment (held every year on the first weekend in March) as an accidental fire destroyed one re-enactor's tent and belongings. By re-enactment time his belongings had mostly been replaced. Gifts from fellow re-enactors and members of the sutlers, or suppliers (who, like their historical counterparts, also travel to these events) had replaced most of his gear.
That the educational aspect is at the forefront of what re-enactors are about was borne out well on Thursday before the Natural Bridge Battle Re-enactment this year as one of several groups of school kids were followed as they went from station to station on the grounds. These stations were set up by the re-enactors for living history demonstrations and talks. One such station was an actual cannon which was loaded (blanks!) and fired as each step in the process was explained by the cannon crew. The questions asked by many of those students showed both interest and prior knowledge. Perhaps when Mrs. Buck's fifth grade class from Woodville Elementary school stood behind that cannon as it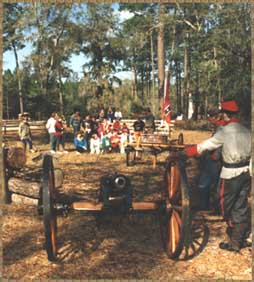 boomed away many were "walking", for a moment, in some ancestor's footsteps.
As another re-enactor and member of the above mentioned Confederate cannon crew, Wakulla countian Allen Gerrell, put it; "You can talk about it and you can write about it, but you really don't know until you experience it...." He certainly has experienced all three of those as he is the Park Ranger who was answering those questions about both the cannon and the war itself and he has also written a book about local Civil War action - Civil War In And Around St. Marks, Florida (1993). He also built much of his own equipment that is used with the cannon (even to the wagon wheels used on the cannon's limber!).
One member of the re-enactment force added, perhaps, the best reason for a good many of the participants as he walked off the field and nodded toward one of the new cannon; "boys and their toys..."
Some of us are satisfied with just a new boat and motor!